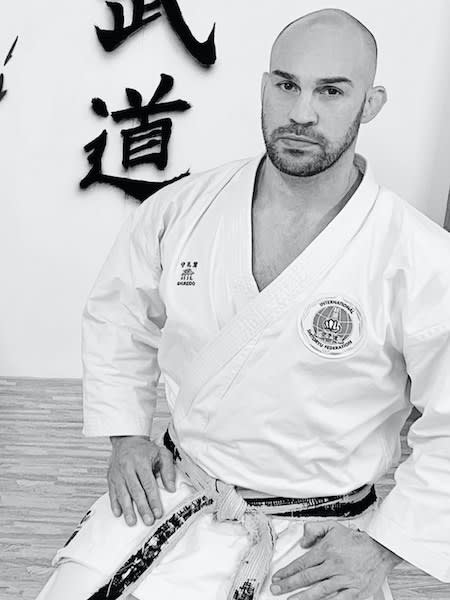 Sensei Seth Petruzelli
Born in Cape Coral, FL, Sensei Seth started his martial arts journey at age 6 training under Shihan Dougherty. He attained his ni-dan (second degree black belt) at age 12 and by 18 years old had national and world karate titles under his belt. While also being an accomplished high school wrestler, he started his pro MMA fighting career at age 20. In the year 2000 Seth moved to Orlando FL to attend UCF where he attained his BS in psychology. Also, to start Brazilian Jiu-jitsu and train full time for his pro MMA career. During his 15-year MMA career, he has fought all around the world for the top organizations. Starring on season 2 of the ultimate fighter, fighting for Japan's top kickboxing organization K1, one of Belators top athletes, a 6x UFC veteran, KO's under former UFC champions Dan Severn, Ricco Rodriguez and infamously KO'ing Kimbo Slice in MMA's most watched fight of all time. Sensei Seth utilized his karate training and techniques during his entire MMA career, showing the world that true karate not only has beauty but also substance to work in real life.
In 2017 he was given his second stripe black belt in De la Riva Brazilian Jiu-JItsu, and in 2019 received his san-dan (third degree black belt) from shihan Dougherty. While Sensei Seth was fighting professionally, he also had a dream of starting his own martial arts facility. In 2008 he made that dream a reality by opening the Jungle MMA and Fitness. Many years later, his facility (now 2 locations) has turned into the biggest and top martial arts center for kickboxing, Brazilian jiu-jitsu, fitness, and MMA. He now has a new dream for the art of karate he loves so dearly.
In January 2019, Sensei Seth opened Jyanguru Dojo. He wishes to uphold the knowledge, wisdom, tradition, and discipline that traditional karate has given him his entire life. He looks forward to spreading this knowledge for anyone with the desire to learn.