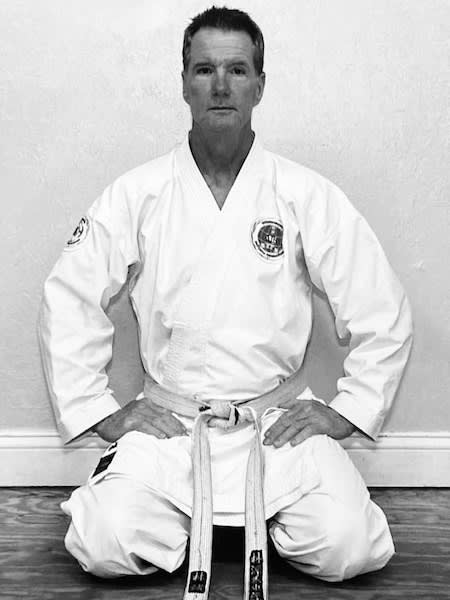 Shihan Dougherty
Bernard J. Dougherty is the master instructor (Shihan) of Kobayashi Dojo . Shihan Dougherty is a 41-year practitioner of the art of Hayashi-Ha Shito-Ryu Karate-Do. He currently holds the rank of Nana-dan (seventh degree black belt) in International Hayashi-Ha Shito-Ryu Karate-Do Federation (IHSKF) and holds the rank of San-Dan (third degree black belt) in International Kenshin-Ryu Kobudo Association (IKKA) Okinawa Kobudo (weapons).
Shihan has faithfully served the long tradition and has undergone a long apprenticeship in order to achieve the level of expertise that Hayashi-Ha Shito-Ryu requires of its students to become designated a Shihan (master instructor). Traditional Japanese Karate styles such as Hayashi-Ha Shito-Ryu require longer periods of study than other more modern styles of martial arts before advancement in the Dan (black belt) ranks.
Shihan Dougherty has demonstrated the stamina, determination, and persistence worthy of his teaching status, and is willing to instill these qualities in his students no matter what the age. He has trained extensively in the United States and Japan directly under Grand Master Hayashi and his top-ranked Japanese national and international coaches and competitors.
As a resident of Lee County, Shihan Dougherty is very involved in the community in which he lives and is committed to providing quality teaching to students of all ages in order to promote Hayashi-Ha Shito-Ryu.
Shihan Dougherty is also committed to the welfare of the community, promoting social interest and responsibility, combating juvenile delinquency, and encouraging adult mentors to counsel, assist, and encourage youth to learn, advance, and make positive life choices.